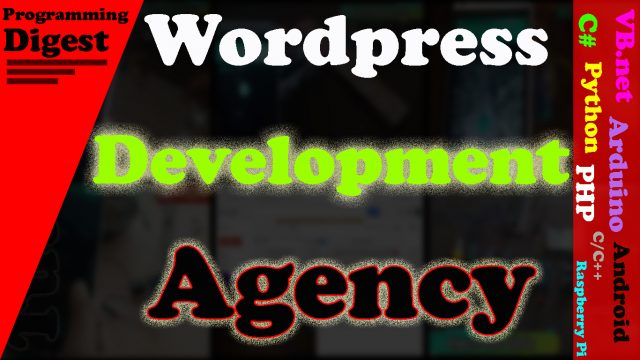 Description:
Wordpress Development Agency- in this article we discussed the most important WordPress development agency.



Devrix WordPress development agency:
DevriX is a European based digital tech agency established in 2010 that offers ongoing development, innovative, marketing and business growth services to small and medium-sized companies, fast-paced startups and high-end publishers. Our WordPress Core Contributors have created 8 SaaS applications, several hundreds of plugins, and effective hundreds of million monthly views scaling platforms. DevriX worked among a group of media outlets profiling in various fields with customers in the aviation, automobile, banking industries' main goal of DevriX is to help our customers evolve without meeting the web ecosystem's typical limitations. DevriX provides the technical and business foundation for the digital identity of successful companies searching for the next phase in their workflow to grow their business. DevriX optimizes business processes across technology and marketing strategy and works internally to reinforce our customers ' brands, enhance their online presence, develop tailored tools to improve efficiency and coordination and help growth strategy initiatives through different online channels. 90% of our business consists of a portfolio of ongoing retainer accounts that have been working with us for more than 2 years. We have developed a rock-solid growth and support model that delivers long-term innovation without compromising the current stability and reliability level.
Services offered by WordPress development agency DevriX :
Custom WordPress development
Design and frontend designing and development
Custom WordPress plugin development
Software as a service application development
3rd party API integration
Marketing assistance and business consulting
Server management and website maintenance
Valet WordPress development agency:
Valet is a team of leaders very member of the team is proactive and engages in delivering products and service. each person can speak thoughtfully to their portion of any project and takes the initiative to provide the best in class service to the clients. valet consistently deliver on our word valet bring the highest levels of honesty and authenticity to every interaction Integrity fortifies healthy communication with proper standards and loyalty which ultimately generates sustainable long-term success for customers.valet provide world-class results using the best approaches for each specific client valet Listen and interact beyond customer expectations to recognize and satisfy expressed and unexpressed wishes and needs. valet understands the importance of achieving your objectives as a whole.
Services offered by valet WordPress development agency :
Host selection and site migrations
Expert level WordPress site support
Wordpress development services
Long term WordPress website management
10up WordPress development agency:
10up WordPress development agency enhances the internet with advisory creative and engineering services, innovative tools, and reliable products that remove pain from content creation and management, serving digital experiences that advance business and marketing goals. We're a group of people made to solve problems, built, wired to delight. A customer-centric service model spanning every foundation,  unrivaled leadership and innovation in open platforms and technologies for digital manufacturers and creators of content, and a forward-looking remote work culture make for a refreshing environment for the organization.10up have 120 experts in digital strategy and management, software engineering,  user experience, and interactive design, cloud infrastructure, and customer and sales optimization, we are big enough to overcome any challenge and small enough to take care of.
6-8 specialist cross-disciplinary teams organize around the qualified project and product managers, putting the delivery of customers at the front and center.
Services offered by 10upWordPress development agency  :
Designing and development of WordPress website
Design services
Website: 10up
Creative Slice WordPress development agency:
Creative Slice is an award-winning web design company, founded in 2003, which aims to take our clients to the next level of business development. Our customer base is very diverse, ranging from international resorts to small, community-based non-profits that emphasize sustainable and green development. Our concluding line? Help you grow your reach on the web and drive your ultimate success. Creative Slice Working with the phenomenal network of skilled professionals specializing in design, marketing, programming, and related expertise areas. This approach enables us to assemble the right team for your unique project. All of our network members are competent in current design approaches and share our commitment to mobile-first technology and the development of WordPress.
Services offered by Creative SliceWordPress development agency:
Wordpress development
Ecommerce
Illustration
Branding
SEO
Reactive Studios WordPress development agency:
Reactive Studios is a small, industry-leading team with almost twenty years of development experience and leadership in the WordPress community. Reactive Studios come from New York City, Missouri, San Diego, Texas, Washington D.C., Virginia, Indiana, and Canada.
Services offered by Reactive Studios WordPress development agency:
Bespoke website design and development
Strategy and consultancy
API and integrations
Platform migration
Code review
WP Site Care WordPress development agency:
Wp site care WordPress support experts help businesses manage to maintain safeguards and improve their websites.wp site care dealing with a flaky unprofessional web developer still waiting to hear back about that support ticket you filed more than 24 hours ago tired of troubleshooting website issue all on your own WordPress is in your life so you can publish content efficiently and grow your business but fussing around with all the extra tasks and responsibilities that come packaged with website ownership is to be quite frank.wp site care can neglect regular updates to your theme plugins. Wp site care team is very active because there's a lot of buddies out there on the internet and they are only becoming more and more sophisticated in their attacks that's why wp site care plans include 24/7 malware scanning brute force protection antispam software and speedy WordPress hack.
Services offered by WP Site Care development agency:
Ongoing management and maintenance of your WordPress site and hosting
Quality assurance
On-demand development
Performance Foundry WordPress development agency:
Performance foundry specializes in WordPress solutions for businesses worldwide. performance foundry on a mission to become the best WordPress services company in the world performance foundry managed WordPress hosting and maintenance is perfect for small to medium-sized sites performance foundry love to see websites loading fast and performing well performance foundry care as much about your site as you do.
Services offered by Performance Foundry WordPress development agency:
Wordpress site development
Wordpress speed optimization
Malware removal and security hardening